THE WEB MARKETING ASSOCIATION PRESENTS THIS WEBAWARD
Best Family Website
2018
Submitted by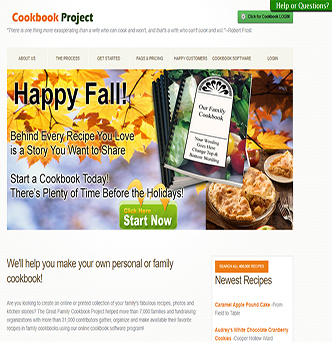 About The Family Cookbook Project
https://www.FamilyCookbookProject.com
The Family Cookbook Project is dedicated to helping individuals and families collect and preserve the time-honored recipes that are so important to our family traditions. The website at www.familycookbookproject.comprovides step-by-step instructions and online tools to create a valuable family heirloom. Personalized cookbooks are also used by schools and church groups as important fundraisers. Groups looking to create cookbooks for fundraising efforts, can also check out www.cookbookfundraiser.com.
About The Great Family Cookbook Project
https://www.familycookbookproject.com
Family Cookbook Project has been helping families and groups create personalized cookbooks since 2004. Behind Every Recipe You Love is a Story You Want to Share!
About the Web Marketing Associationís WebAwards
Since 1997, the Web Marketing Association's annual WebAward Competition has been setting the standard of excellence for Website development. Independent expert judges from around the world review sites in 86 industries. Only the best are recognized with a WebAward. The WebAward Competition is the premier award recognition program for Website developers and the online marketing community.