THE WEB MARKETING ASSOCIATION PRESENTS THIS WEBAWARD
Best Pharmaceuticals Website
2010
Submitted by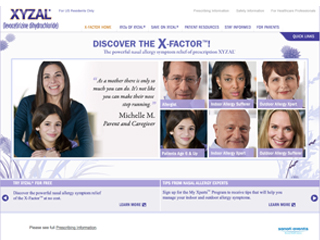 About Heartbeat Ideas and sanofi-aventis U.S. LLC.
Heartbeat is a full-service agency for healthcare Challenger Brands. Challengers are playing a high-stakes game—they must battle behemoth market leaders, upend ingrained treatment habits, or transform a "me-too" product into "yes-please."

The agency is known for serving up distinctive strategies and differentiating approaches, ensuring clients' market positions are uniquely owned. Heartbeat designs their organization around a 100% integration model, housing media, strategy, med comms, creative, technology, and even point of care/population health under the same roof for the tightest, most integrated campaigns possible. They price work based on outcomes, not outputs. Their innovative model delivers not only alignment, but powerful orchestration, greater efficiency, and maximum impact for every dollar spent—all the necessary elements for Challengers to triumph.

That's the philosophy, here's the creds: 250+ employees between NYC & LA; 6 agency leaders with decades of tenure; a pile of awards from the likes of the Mannys, MM&M Awards, OMMAs, and Clios; an industry-leading commitment to diversity and inclusion (with a Med Ad News D&I Champion nod to match); and a President who dared to be quoted as follows, "We celebrate people who stand up and say, 'You know what? This is dumb.'" Damn straight.

For more information about Heartbeat, please email marketing@weareheartbeat.com.
About the Web Marketing Association's WebAwards
Since 1997, the Web Marketing Association's annual WebAward Competition has been setting the standard of excellence for Website development. Independent expert judges from around the world review sites in 86 industries. Only the best are recognized with a WebAward. The WebAward Competition is the premier award recognition program for Website developers and the online marketing community.