THE WEB MARKETING ASSOCIATION PRESENTS THIS WEBAWARD
Best Credit Union Website
2009
Submitted by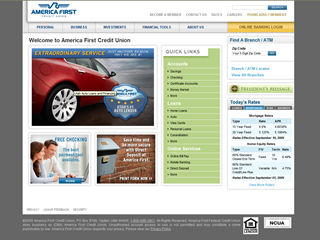 About America First Credit Union
America First Credit Union was founded at Fort Douglas, Utah, on March 16, 1939, by a small group of people determined to form their own cooperative to promote their collective economic well-being. In its 70-year history, America First has become one of the largest, most stable and most progressive credit unions in the country and has remained a member-owned, not-for-profit cooperative financial institution. Today, America First is the 11th largest credit union in assets in the United States with $4.4 billion, and the 6th largest credit union in membership in America with over 475,000 members.
About the Web Marketing Associationís WebAwards
Since 1997, the Web Marketing Association's annual WebAward Competition has been setting the standard of excellence for Website development. Independent expert judges from around the world review sites in 86 industries. Only the best are recognized with a WebAward. The WebAward Competition is the premier award recognition program for Website developers and the online marketing community.